Want a fast way to increase your custom framing profit?
Discover Full Frame Visualization™
You can easily show your customers the framed product before they buy.
Go from corners to Framed in 10 seconds!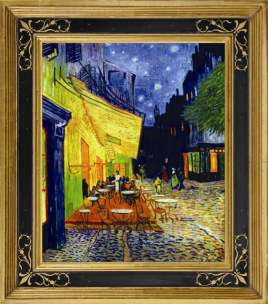 How many of your Customers can't visualize the framed piece from the corner samples?
If they cannot visualize it, how can you know what they really like?
Picture It First solves this age old custom framing problem.
Try Picture It First from Framers Edge. Computer expertise is not needed with our easy-to-use software package. It was designed for use by creative framers. Uses your existing moulding and matting samples, no databases. With Picture It First you can speed up customer decision making, increase sales to fancier mouldings and wider mats, and provide a superior customer experience.
But don't take our word for it. Listen to what our customers have to say:
"I was just amazed how fast and easy Picture It First was to use. I close more sales in less time. If I weren't doing it myself, I wouldn't believe it"—Janie Peters, Kelly's Custom Frames, Lafayette, IN.
"Picture It First really speeds up decision making with my customers that can't make up their minds. When they can see their artwork finished, there's no hesitation. They're ready to buy."—Less Martin, Martin's Gallery, Hanover, PA.
After using Picture It First for the first time: "The customer just sold themselves on a wider, more expensive moulding. This is by far the best improvement ever purchased for the store." Alicia, frame designer, Poster Warehouse, Tucson AZ
Picture It First automates your creative framing process with Full Frame Visualization™, only available from Framer's Edge. With our Full Frame Visualization™ you don't just show customers corner options. With just a few mouse clicks, you can demonstrate several different framing options, allowing customers to quickly see the full impact of what you've created. With our Speed-Of-Light process, Picture It First will never slow you down at the design counter.